Be famous for a day

A new programme called Trading Treasures, which London News Network (LNN) are producing for the BBC, will be transmitted in June 2003 on BBC1.

The aim of the show is to rid participants' houses of any unwanted clutter from their loft, garage or even garden shed. Perhaps you have collections that have got a little out of hand or you have been meaning to do a car boot sale but haven't quite got round to it yet.

If you are chosen to take part, it will be filmed at your home for half a day and it will involve you going to a local boot sale/antique fair to sell your surplus clutter. LNN will pay for the pitch, all you have to do is sell as much as you can.

LNN are very keen to find contestants in the Liphook area, so if you are interested in becoming a TV 'star' then read on: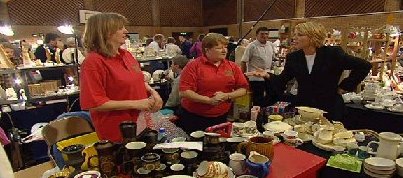 Your loft or garage is full of junk, right? It's up to the brim with mislaid, old, long forgotten bits and pieces.
Perhaps your collection is starting to take over your home and you're running out of storage space.
Are you moving house, converting the loft or thinking of having a long overdue spring clean to get rid of all the surplus clutter?
If you answered yes to one or more of the above this programme could be the answer to your problems.

Trading Treasures is a new television programme for BBC1. The aim of the show is for presenter Lorne Spicer ('Trading Up in the Sun' BBC1, 'Boot Sale Challenge' ITV) to visit two homeowners and help them clear their houses of excess clutter. Lorne will be helped by our two experts who will estimate how much their items are worth. When everything has been valued it's off to a boot sale/antiques fair. We pay for the pitch, and all our two teams have to do is sell as much as they can. At the end of the day, the team who gets closest to the experts estimated figure wins, but no one loses as they both go home with cash in their pockets.

If you'd like to take part in the programme please fill in an application form (Word 25Kb) and send it to us as soon as possible.

By letter:
Claire Pinfield
LNN Factuals
Franciscan Court
16 Hatfields
London
SE1 8DJ
or e-mail: claire.pinfield@LNN-TV.co.uk with your details.