Crime Busters Report

Local organisations held a conference about the impact of Anti-Social Behaviour on East Hampshire's communities on Friday May 23 at the Millennium Centre.

Liphook.co.uk Exclusive Report

The meeting was not open to the public, but Cllr Freddie Dawkins represented Bramshott & Liphook Parish Council.

About 60 delegates were briefed on action being taken to tackle the problems and to share good practice. East Hampshire District Council's Community Safety Co-ordinator, Sandra Tuddenham said: "New methods of dealing with anti-social-behaviour are being put into practice nationally and this is very topical locally at the moment, as a number of Acceptable Behaviour Contracts have been actioned."

Mr Peter Edmonson, Assistant Director of the Home Office Anti Social Behaviour Unit, attended and gave the keynote address. This was the second annual East Hampshire Community Safety Partnership Crime Conference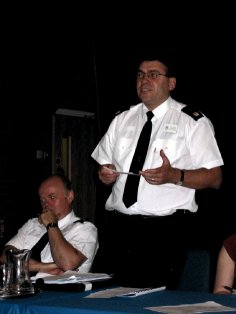 Superintendent Bob Rose (standing above), Divisional Commander for the central Hampshire area, gave the closing address to the audience of Councillors, East Hampshire District Council employees, Hampshire County Council staff, representatives from the Hampshire Police Authority and Constabulary and others, including youth and social workers.

Superintendent Rose revealed that Hampshire Constabulary, along with all other police authorities in England, now compile reported crime statistics in a different fashion, after the Home Office imposed new rules on them. Superintendent Rose stressed that East Hampshire was still one of the safest places to live in England, although there was a worrying trend in the increase in reported crime for the past 12 months.

Rising Crime Figures

Nationally, recorded crime rose by almost 5% last year, after the introduction of a method of registering offences designed to give a more accurate picture of the level of criminal activity.

More than half of England's police forces have provided figures (to The Sunday Times, pp 15, May 25, 2003) for the year ended March 2003. They have been collated for the first time, using the new National Crime Recording Standard, described by senior officers as a more "ethical" way of monitoring crime. The Home Office is due to release full results in July 2003.

Superintendent Rose revealed to the conference that Hampshire Constabulary had reduced burglary after various initiatives had been implemented and there had been a recorded 8% reduction in burglary of dwellings. However, all is not rosy. In the past 12 months, there has been an overall increase in recorded crime of 23%, against the national average of 5%.

In Alton, the overall increase in recorded crime is 24.3%; in Petersfield 17.2% and in the Whitehill/Bordon (including Liphook) area recorded crime has risen by 35%. This means that the total number of recorded crimes in the past year in the east/central Hampshire area has risen from 8,000 to 10,000.

By comparison, in Devon & Cornwall, recorded crime has risen by 29%, in Essex by 20% and in Northumbria by 19%. In Surrey, recorded crime has risen by 7%.

Introducing the new methodology for recording crime, the Home Office had predicted an overall increase of 15%.

In East Hampshire, there have been approximately 500 thefts from motor vehicles in the past year; 300 other thefts; 1,500 reports of criminal damage. Overall, vehicle crime has risen by 25% and violent crime by 32% compared to a national average for violent crime of 20%.

Priorities for Hampshire Constabulary

Within the Strategy and Action Plan 2003-2004 (which has been compiled by the members of the East Hampshire Community Safety Partnership) are:


Reduce road collision casualties in Hampshire and the Isle of Wight
Ensure Police make the most effective use of all their resources and achieve 'best value for money'

Alongside the main conference, there were several breakout workshops, which included the work of the East Hampshire District Council Community Team. Jen Anderson and Andy Ferrier described some of the efforts being made by the new Community Team to encourage people to use the democratic process to deal with issues such as an anti-social behaviour and its causes. The workshop included a general discussion on approaches to Community Development and case studies on citizenship work with young people and the work of one of the Council's Area Community Committees.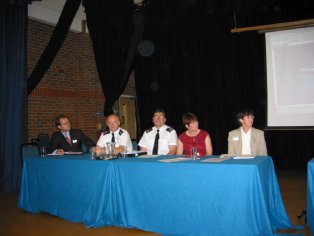 Some of the speakers at the Crime Busters conference. Left to right, Councillor Andrew Pattie (EHDC and conference chairman), Superintendent Pearce, Superintendent Bob Rose, Sandra Tuddenham (Community Safety Co-ordinator, East Hampshire Community Safety Partnership) and Linda Cawsey (Hampshire Police Authority Member).

Article posted on: 21 June 2003

< List all News